Acura Genuine Oils and Fluids, Designed Specifically for your Acura.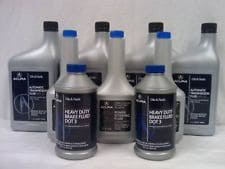 Your Acura is built for performance and solid reliability. A big part of keeping it that way is using new Acura Genuine Fluids at factory recommended intervals.  Clinton Acura can check your fluids and replace them to keep you in line with the manufacturer's specifications.

Over time, fluids lose essential protective properties, and waiting too long between changes can lead to mechanical damage and costly repairs. Acura Genuine Motor Oil, Coolant, Brake Fluid, Automatic Transmission Fluid and Power Steering Fluid are specially formulated to protect your Acura's mechanical components from harmful deposits, rust, corrosion and oxidation. Please check the maintenance schedules in your owner's manual or on our website for recommended fluid change intervals.


Acura Genuine Motor Oil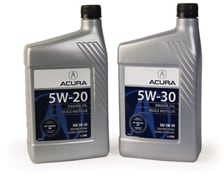 Motor oil is your engine's lifeblood. It lubricates your engine and protects moving parts to keep things running right. With the variety of grades and viscosities available, choosing the right motor oil may seem confusing.

Acura Genuine Motor Oils are blended and tested to meet strict Acura requirements, and are available in a variety of grades and viscosities, each formulated specifically for use in Acura engines. 

Acura engines are designed to work best with lower-viscosity motor oils, and oil not specified for them can diminish engine performance. With so many different brands and types of oil to choose from, why not rely on the engineering expertise of the very company that built your vehicle?

 Acura Genuine Automatic Transmission Fluid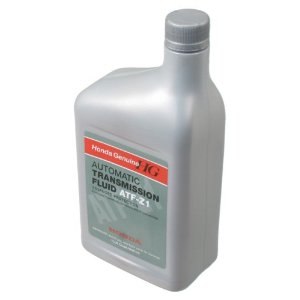 Most people don't stop to think about the fluid in their automatic transmission. The truth is that fluid in their automatic transmission has a direct impact on how well their transmission shifts, how smoothly it performs, and how long the transmission lasts.  Acura Genuine Automatic Transmission Fluid has been thoroughly laboratory-tested, and is specifically formulated to meet the needs of Acura vehicles. It uses the finest ingredients to deliver the ideal friction properties for efficient shifting, economical transfer of power, and a smooth ride with exceptional performance. In fact, Acura Genuine Automatic Fluid is a proprietary fluid not found anywhere else but your Acura dealer!

Acura Genuine Antifreeze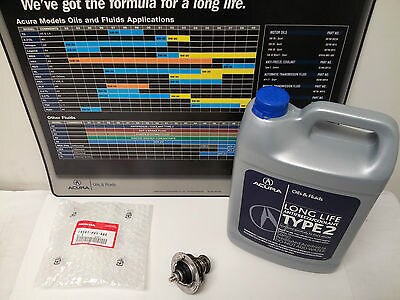 When you're driving in extreme temperatures, the last thing you need is engine failure. Whether in extreme heat or cold, Acura Genuine Longlife Blue Coolant provides long-term corrosion protection to all parts of your Acura's cooling system and protects against boil over and freezing. Acura Genuine Longlife Blue Coolant is the only coolant designed specifically for Acura vehicles. Its pre-mixed formulation is so advanced, no coolant service is required for up to 10 years or 120,000 miles. Use Acura Genuine Longlife Blue Coolant for optimum long-term engine performance.

Acura Genuine Brake Fluid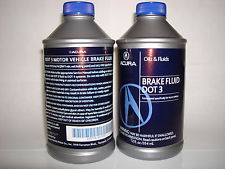 Even under normal braking conditions, your Acura's braking system experiences significant stress. Over time, the brake fluid it uses can become contaminated, or simply lose its effectiveness. That's why Acura recommends replacing brake fluid every three years with Acura Genuine Brake Fluid. Specially formulated to work with Acura braking systems, Acura Genuine Brake Fluid contains moisture inhibitors that help maintain its effectiveness in all driving conditions. What's more, its blend of top-quality ingredients is designed to maintain effectiveness for the full three-year period between recommended changes.

Acura Genuine Power Steering Fluid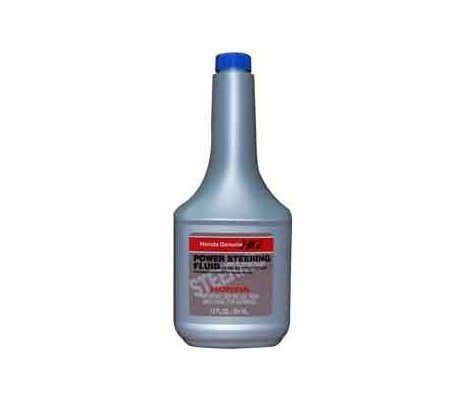 Believe it or not, using the wrong power steering fluid is a mistake you can actually hear. An inferior power steering fluid can allow friction, and friction makes noise. With a higher viscosity than most other power steering fluids, an exclusive blend of friction modifiers and a special base oil,  Acura Genuine Power Steering Fluid is formulated to counter friction effectively, and is 100% compatible with all Acura power steering system components.

Service Department Hours
Monday

7:00AM - 6:00PM

Tuesday

7:00AM - 6:00PM

Wednesday

7:00AM - 6:00PM

Thursday

7:00AM - 6:00PM

Friday

7:00AM - 6:00PM

Saturday

7:00AM - 4:00PM

Sunday

Closed